YoshioKun13
posted a BLOG item
about 1 year ago
"You've done a man's job, sir!"
In BLADE RUNNER(1982)...
Gaff, a mysterious character in the film, presents his compulsory invitation to Deckard in a street lingo called 'Cityspeak'(much of it invented by actor Edward James Olmos, parts of it are also in Hungarian) which Deckard pretends not to understand. As a fellow cop, he is quickly identified as being very different from Deckard through the ways he dresses and behaves. Making subtle observations about Deckard as a commentary, He tends to make little Origami figures.
He walks with a cane and a noticeable limp.
We know very little about Gaff. Is he a Blade Runner, like Deckard and Holden? Perhaps, although his physical condition leaves little opportunity to do any "running". Gaff is an enigma. We have many questions regarding who he is and his exact role. Is he the lower cop who just fetches Deckard and drives him around? Or is he a master Replicant manager? Perhaps he is ambitious and therefore just jealous of Deckard being called back? Maybe Gaff has some other function within the police department, some sort of supervisor, assigned to keeping an eye on Deckard.
But, who really knows.........what his function is?

Edward James Olmos talks about 'Gaff' in BLADE RUNNER
GAFF's ORIGAMI
"It's too bad she won't live. But then again, who does?"
Gaff is there with Deckard at the beginning of the investigation, but appearing on the Replicant death scenes only afterwards. Finally, letting Deckard escape with Rachael. He could have killed Rachael, but didn't. Why? Did he wish them happiness together, for the short time he expected them to have? Or did he just want Deckard to leave town?
Throughout the movie, Gaff creates 3 tiny figures which relate to the themes of the plot and in reference to the character Rick Deckard - a paper chicken, a matchstick man(w/ an erection), and a silver foil paper unicorn.
What exactly do they mean? One can only speculate and interpret for themself...

CHICKEN
Deckard is 'chicken', he is reluctant to take the job.

MATCHSTICK MAN
Deckard may be getting *too* involved(in respect to Rachael, most likely). It might also be Gaff's way of asking "Are you man enough to finish the job?"

UNICORN
The origami unicorn can have mean TWO entirely different things, depending on which version of the film you watch.
In the original theatrical cut, it could simply be a way of saying "Gaff was here!" Basically, it was a calling card.
In the other versions of the film, taking the unicorn sequences that have been added into account, there is an extra layer to it. It strongly implies that the Blade Runner Deckard, a replicant hunter, could possibly be a replicant himself.

1:1 Scale Prop Replicas - Unicorn, Matchstick and Chicken

2:1 Scale Prop Replicas - Chicken and Unicorn
Purchase a BLADE RUNNER Unicorn Prop:
Limited Edition 'Gaff's Origami School' T-Shirt
(by DARK BUNNY TEES)
BLADE RUNNER Movie Tee - 'Origami Unicorn
(by ARCANE MOVIE TEES)
http://www.arcanemovietees.com/index.php/t-shirts/latest-t-shirts/blade-runner-movie-tee-origami-unicorn.html
THinkGeek Origami Unicorn Unisex Tee
'Origami Unicorn' - Regular Fit T-shirt
(by LAST EXIT TO NOWHERE)
http://fashionablygeek.com/wp-content/uploads/2011/03/blade-runner-origami-unicorn.jpg?cb5e28
'Origami Unicorn' Zip-up Hooded Top
(by LAST EXIT TO NOWHERE)
http://www.lastexittonowhere.com/shop/product/origami-unicorn-zip-up-hooded-top/
'The Unicorn' - BLADE RUNNER Ultimate Collector's Edition T-Shirt
(by bladerunner.spreadshirt.com)

http://bladerunner.spreadshirt.com/the-unicorn-blade-runner-ultimate-collector-s-edition-t-shirt-A2369516
Random eBay 'Origami Unicorn' T-Shirt
GAFF'S FATE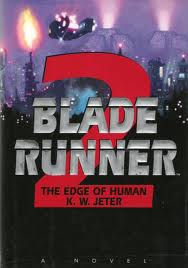 In the sequel novelization BLADE RUNNER 2: THE EDGE OF HUMAN by K.W. Jeter, it mentions that Gaff is killed while on assignment in the line of duty. At the beginning of the novel, Bryant has just returned from the funeral and expresses his distaste for the 'Cityspeak' written on Gaff's headstone.
Mood:
Sad