randychico
posted a BLOG item
12 months ago
So here we go ladies and ghouuls, the results are in, you voted and everyone won!!!! Let's do this poop!
5th placers
goNADSgo69 as Erin from You're Next


"Best nod to horror" "hottest genderswap" "Best Gender-bending Costume" and the "wouldn't have guessed if you'd asked me but it's still awesome" awards
TastetheW0ng as A.W.E.S.O.M.-o


WInner of the "most creative" (x2), and the "why the hell is this picture sideways? Maybe "because Awesomo must rest his CPU!"" award
HTX0811 as bloody skeleton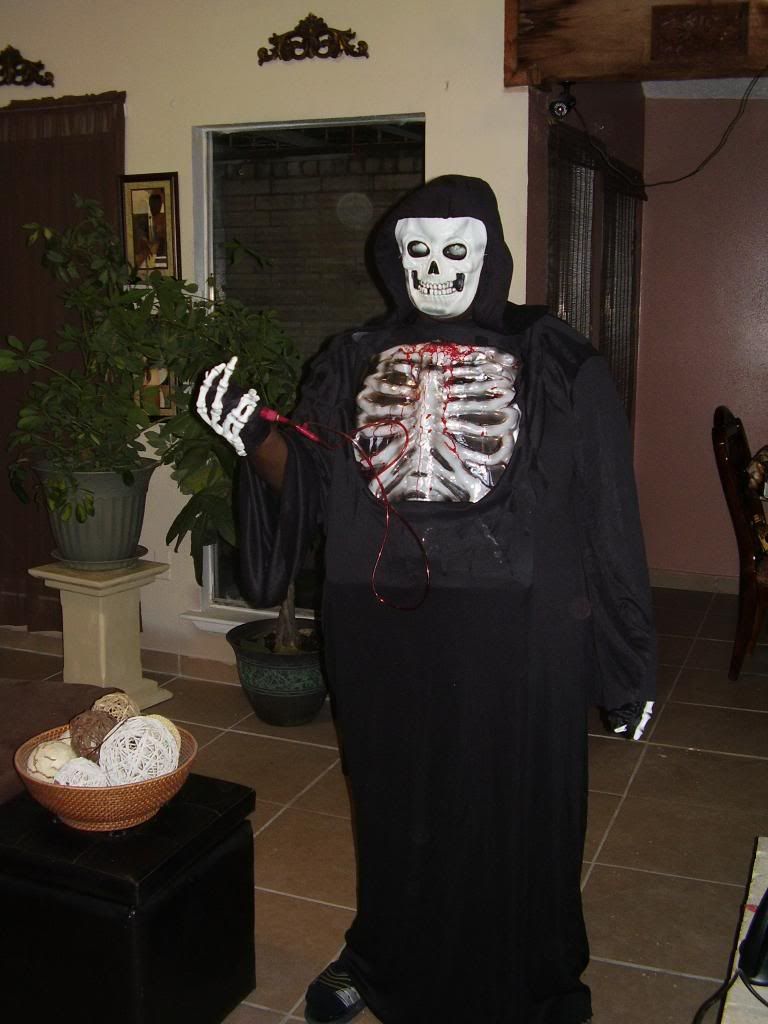 Winner of "best costume that looks like a decoration""Most Awesome Effects" and the "bloody good show" awards
Nick KEWL


Winner of "most frightening Walter White lookalike","Best Facial Hair" and the "you got that right I am!" awards
vampjezzc

Winner for "Best Beauty Make-up" and the "loves halloween so will dress up as 3 different things" awards
Walkaway, Thatswhatshesaid and friends


Winner of "Cutest costume" for Thatswhatshesaid (as Lil) and the "babes gotta do what babes gotta do" awards
WalkAway, Thatswhatshesaid and JZacc (and their mother)


Winner of "best use of pediophobia" and the "no, I would not like to play with you" awards
4th placers
razgriz21 as The Punisher


Winner of "most badass dude" "best punisher smiling costume ever""Best Prosthetics" and the "there is no escape from his justice" award
zombie_bro as shark (with family)


Winner of the "Family who tricks or treats together stays together", the "Best Animal Ever Costume", the "Best Marine Animal" and the "greatest white costume GET IT?!?!" award
Angryjohnnyn1930 as Marty McFly


Award for "veracity" "most timely" "Best Vest" and the "bestest best best vest best" awards
Evil-Ed as Zombie Soldier

Winner of "best costume to feature a mermaid and her boobs" and the "gets votes because of companion" award
Me (randychico) as all of the Teenage Mutant Ninja Turtles


Winner of "Best use of character conglomeration" "cleverness award for cleverness" "most creative and colorful""Most Turtleriffic!" and the "I'm giving myself an award just because I can 3rd edition" awards
3rd Place TIE
Michaelatyson as Ash


WinnerMost badass chick, "best use of chainsaw arm without cutting off said limb", the one hell of a debut and farewell from a moviefancentral user award
JohnLocke2342 and his girl as Nathan Drake and Elena Fisher


Cutest videogame couple"Best Video Game Characters", the "this needs to be a movie" award and the "Stop it JohnLocke, you always bring it! Stop bringing it you're making the rest of us look bad!"
2nd Place TIE!
wallcrawler383 as Wreck-It Ralph


Winner for "Costume to most likely wreck it in bed" "Best Cartoon Character" and the "It's badass and that's good"
WalkAway as Chuckie


Winner for "Best use of nostalgia", the "only time I've ever thought an infant was sexy" and the "hi, I'm chuckie wanna play? Yes yes I would" awards
...aaand now, drum roll please!
1st Place
timmyd as Michael Myers


Winner of "Looks like a photo from the set" costume,"Creepiest Costume" and the "wins because the photo is just so creepy" awards
Well there you go guys, another year, another round of cool, scary, funny and awesome contests. Thanks for everyone who participated, hope to see you round this parts next year!
Mood:
Happy