Psycho-Pirate-99
posted a BLOG item
about 3 years ago
TAGLINE: "Superwomen! Belted, buckled, and booted!"
Three hotties that are completely out of their minds are hanging out in a desert, where they come across a young couple. Looking for a good time, the hotties put the couple through hell, killing the boyfriend and taking the girlfriend with them as they raise even more hell. The girl's mayhem includes robbing an old man in a wheelchair, which may prove to be more difficult than they expected.
Another sexploitation classic from the mammary master himself, Russ Meyer. This one is probably his most well known feature, as well as bombshell Vera Satana's most famous role. Though there's in no nudity in the film, it still reeks of sex and seduction. These ladies are as bad as their beautiful, and it's a blast to watch them have their shameless fun.
This film is a must see for anyone interested in the exploitation scene, and an absolute MUST for anyone interested in Russ Meyer. There was even a rumor a while back that Tarantino was going to remake it, and even wanted to cast Kim Kardashian and Britney Spears. I won't bother giving you my opinion on that, I'll let you use your imagination.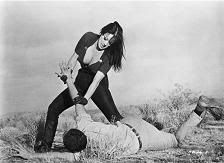 FAVORITE THINGS ABOUT IT:
The voluptuous Tura Satana
Haji and her THICK....accent
The dirty old man
JUDO CHOP!
CLEAVAGE!
What an awesome movie title
Chicks dancing
Chicks committing cold blooded murder
Chicks in fast cars, even playing chicken with them
Chicks taking showers
Chicks fighting each other (CAT FIGHTS!)
------------------------------------------------------------
NEXT WEEK'S SHOW:
Mood:
Horny