movieman32
posted a BLOG item
26 days ago
Killer Klowns From Outer Space was a bona fide childhood classic that I hadn't seen in years and, if you had asked me if I thought it would hold up, I wouldn't have known how to answer that question. But then my buddy brought it on blu-ray and let me borrow it. And this recent rewatch has shown me that the answer to that particular question is yes, yes…….A THOUSAND TIMES YES!! Lol This movie is proof of how even the thinnest of plots can be made entertaining when the filmmakers' imagination is given free reign to run wild. The plot concerns the titular aliens coming to Earth to kill and harvest humans for sustenance. That's it. That's all there is to it. And that's not to mention the fact that every non clown character across the board is brought to life through some of the cheesier (over)acting put to film. But the genuine creativity on display nevertheless makes for a movie that remains a guilty pleasure due to moments such as this fatal 'za delivery…..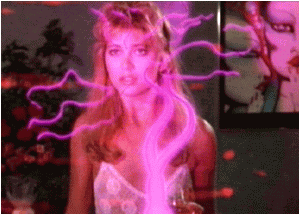 " What are ya gonna do? Knock my block off? " YA DAMN RIGHT!
This was the scene that stood out the clearest for me, but I forgot just how amusing it was to see the clown do his little shuffle and tap himself with the boxing gloves.


It's a small detail, but one that adds immeasurably to the humor of the scene.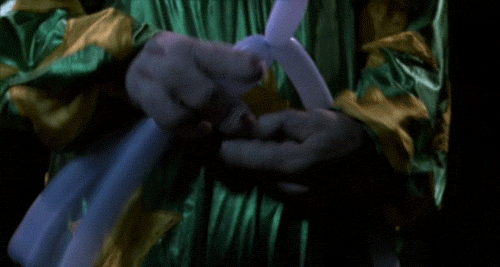 This is one of my favorite examples of Killer Klown's creativity, with the idea of a balloon dog coming to life and tracking our heroes simply being a cool idea. An interesting tidbit about this scene is the fact that the balloon dog's legs had to be coated in latex to keep from popping on the pine needles covering the ground. Or how about this unfortunate puppet show?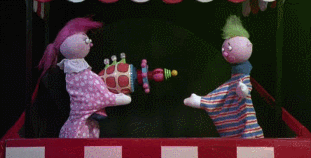 Another creative idea was the popcorn gun…..


This prop was the most expensive one in the movie, costing $7,000 and taking six weeks to build. It had an air compressor installed to actually propel popcorn. And the funny thing about all of that effort was the fact that it was initially lost on a young me, as I was underwhelmed by the weapon's introduction. You had this scene of the heroes' discovery and the clowns' pursuit which was climaxed with the heroes being shot at with…….popcorn? Even at such a young, impressionable age, that payoff did little for me. It did, however, up the surprise factor when audiences were later shown how the popcorn was actually seeds which blossomed into little springy necked clownlings after what has to be one of cinema's longest shower scenes involving the heroine Debbie.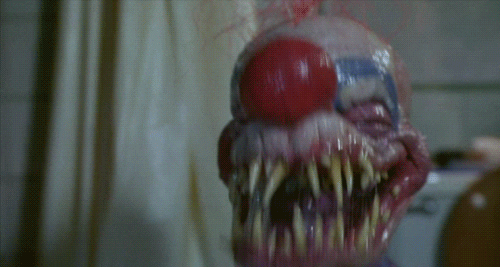 What makes this scene even more of a classic is when Debbie opens the bathroom window and prepares to leap to safety, only to be confronted by these oddly prescient clowns…..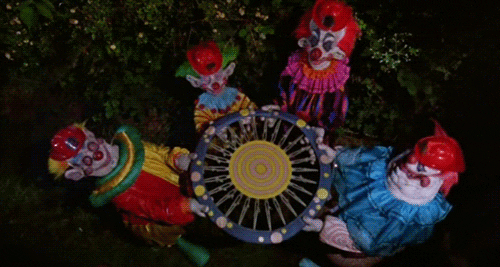 And then there's my favorite scene in the entire movie, in which a shadow puppet show becomes deadly.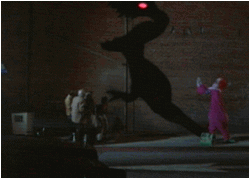 What I love most about this scene is the fact that such creativity is followed by a scene of patented Killer Klowns overacting ( not to mention one of the least convincing crashing a car into a wall scenes in cinema history ). Although acting of the caliber found here would usually be a detriment, in this instance it's entirely appropriate, and lends the whole production a campy tone similar to that of the 60s Batman show. Another scene where this campy tone is evident is late in the movie when a security guard has an unfortunate encounter with a barrage of pies.


I love the nonchalant manner in which the security guard addresses the clowns as if it's entirely natural to see a posse of clowns materialize out of nowhere armed with pies. But the cherry on top of this scene was when the last clown of the bunch impishly puts a cherry on top of the melted, smoking remains of the security guard. The Chiodo brothers originally wanted Soupy Sales to portray the security guard due to his routine of receiving pies to the face during his children's show. However, the producers, who didn't believe people would know who the comedian was, refused to fly him out.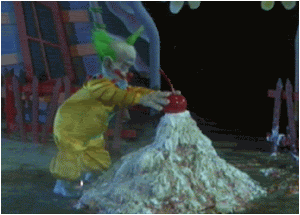 But when it comes to campy moments of overacting, no one in the entire movie does it better or more consistently than this delightful chap here……


John Vernon as the hilariously obtuse Officer Mooney
Vernon easily walks away as the movie's MVP with a hilariously over the top performance that had me in stitches throughout his screen time. And the thing that's amusing is to contrast this viewing with my first viewing many, MANY years ago. You see, this performance didn't stand out to me back then at all. Its effectiveness was on the same level as all the others. I guess that's what happens when you're talking about being young enough to actually take a plot like this seriously. You don't exactly notice when a performance is loaded with camp value. But, geez Louise, poppa cheese, you can't miss it once you go back and watch it again through adult eyes. And the thing that's most amusing about his squinty, snarling performance is how the Chiodo brothers instructed him to play things straight. It then becomes the absurdity of the character that makes him so entertaining. Plus, you just gotta love how Mooney STILL refuses to believe the reports of clowns messing up the town even when he's face to face with one of them, which results in scenes of him receiving quite the appropriate ( and highly entertaining ) torment and comeuppance…..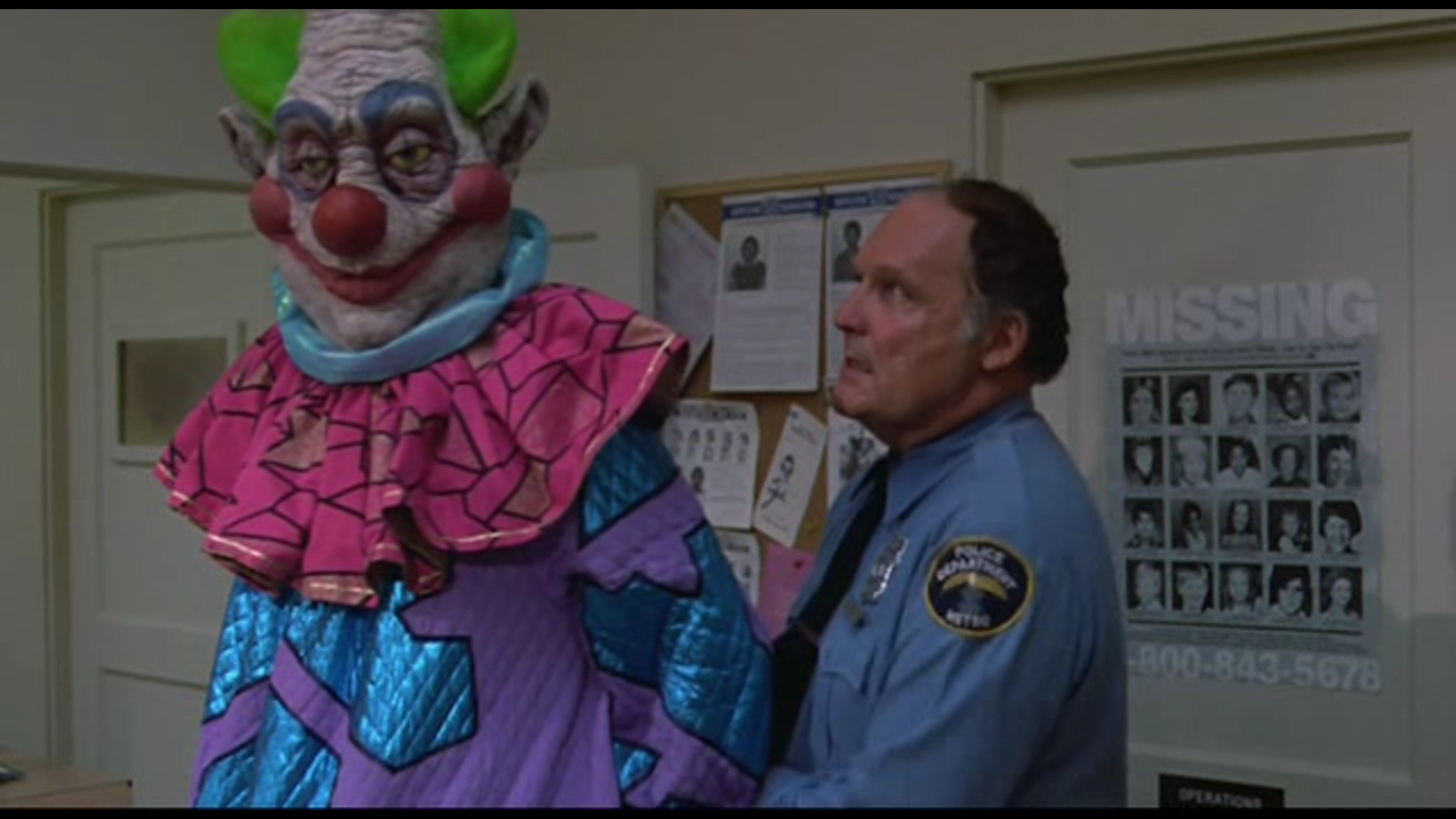 " This is where I'm supposed to read you your rights. But you're in Mooney's jail now. And in Mooney's jail, you ain't got no rights ! " LMAO You tell him, Mooney!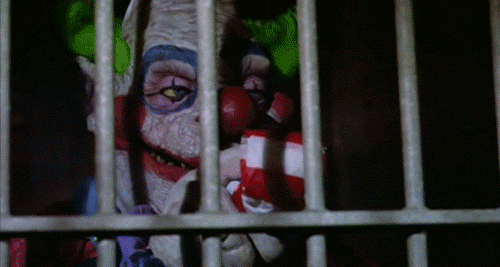 Ya know, I never noticed the fact that it's obviously a wrapped up arm grabbing Mooney's neck until I posted this gif. But, hey, what can I say? This is the kind of movie where such a detail adds to the overall charm.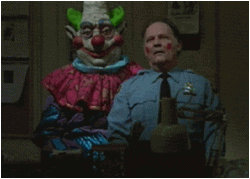 And the best thing about this scene? Why, that would be the delightfully foreshadowed early moment when Mooney shouts out to his deputy, " Go ahead and make a dummy out of yourself! But you won't make a dummy out of me ! " lol And this was many years before Edgar Wright would be celebrated for doing the same thing in his Cornetto trilogy. So that was a very enjoyable performance. But for all of the enjoyably hammy overacting to be found in Killer Klowns, there were a couple of genuinely creepy moments that bear mentioning. The first one occurred when the clowns were first entering the city. One clown enters the frame ahead of the others and turns around to look at them.


Since it takes several seconds for another clown to enter the frame….


…..the scene has the effect of making it seem as if the clown is looking directly at the audience, which is simply cool. Another tense, creepy moment was this one right here……


This moment is one that still works, but what's amusing is how it got a young me to straighten up in my seat. This wasn't a popcorn or cotton candy cocoon gun, but a rather large mallet, and even at such a young age, I was aware of the fact that mallets were for bashing. That's why it seemed to take a particularly long time for the girl's mother to call her away from the door. Lol
Production trivia
The movie, which was meant to be an homage to 50s monster movies, was originally titled Killer Klowns, but the Chiodo brothers added " from Outer Space " to both sell the humor and keep audiences from confusing it with a typical slasher movie. In the beginning of the movie, a young man is seen passing in front of Mooney while drinking a beer.


This budding thespian was actor and comedian Christopher Titus making his feature film debut. The theme song by The Dickies was based on the title alone. The band didn't even read the screenplay before writing it. Many of the characters in the film – including Mike Tobacco, the Terenzi Brothers, and Joe Lombardo – were real names of and based on real childhood buddies of the Chiodo Brothers. Mike Tobacco was known for bringing girls to make out point with champagne in his glove compartment and a rubber raft in his back seat. The Terenzi Brothers really did rent an ice cream truck with the hopes of getting girls (because everyone likes ice cream). This is a particularly interesting bit of trivia to me because during my rewatch, I couldn't help but snicker at the name Mike Tobacco, thinking it was such an incredibly cheesy character name. So you can imagine my surprise to discover Monsieur Tobacco actually existed! Lol The Chiodo brothers originally didn't want to reveal the clowns until much later in the movie. However, their executive producer insisted they show them in the first reel, proving that even the lowest budgeted movies aren't immune to studio meddling.


Klownzilla was originally meant to be shot in stop motion, but for speed and budgetary reasons, this Chiodo brother right here…….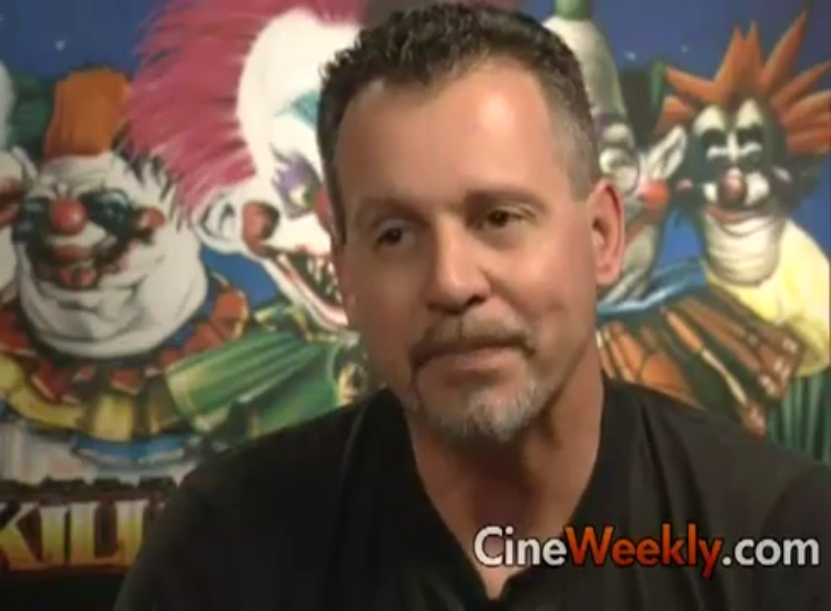 Charles
…….suited up and got the shot done. The Chiodo brothers, in an amusing attempt at a " realistic " ending, wanted Dave to die in the climactic explosion. But when test audiences reacted badly, the brothers decided to shoot the upbeat ending. Ironically enough, the Terenzi brothers always survived by hiding in the freezer of their truck.

The Chiodos ( l to r ) : Charles, Stephen, Edward
Final verdict : 8/10 for a B movie classic from way back when that still delivers the cheesy fun thirty years later.
Mood:
Chillin'