movieman32
posted a BLOG item
3 months ago
Spoiler alert : Aaargh! Beware, all ye who enter this blog. For here there be spoilers.


Author's note : Once I decided on The Descent for my next Why It's a Classic blog, it was one I was looking forward to since it was the very first movie I ever reviewed on MFC. :)
Welcome, schmoes, to my latest installment of Why It's a Classic, a series of blogs in which I'll take a movie I have deemed worthy of classic status and examine just why that's so. The latest classic to be examined is this 2005 effort from Neil Marshall…….

Background
When this 2002 effort by Marshall…..


…...was a moderate success, he received several offers to direct another horror movie, but was initially resistant due to not wanting to get typecast as a horror director. However, he agreed to direct The Descent due to the dissimilarity between it and Dog Soldiers. Marshall initially wanted the cast to be multigender, but a business partner pointed out the rarity of an all female cast in such movies. To avoid making them cliched, he sought out the advice of his female friends, and explained the difference by saying, " The women discuss how they feel about the situation, which the soldiers in Dog Soldiers would never have done. " While the movie was set in North America, it was shot entirely in the UK, with exteriors being done in Scotland, and the interiors being done on sets built at Pinewood Studios near London. And, yes, you read that correctly. For a movie to nearly take place entirely in a cave, none of the cast or crew stepped foot inside an actual cave since it was felt to be too costly and time consuming. Instead 21 cave sets were designed by this most masterful production designer……..


Simon Bowles
…...and were constructed by this maestro…….


Rod Vass
Since Marshall shot the movie in strict chronological order, he was able to take the sets and redress and reuse them in later scenes. He also sought to limit the lighting to what was available to the characters, such as flares and the lights on their helmets. Marshall cited the films The Texas Chainsaw Massacre, The Thing, and Deliverance as influences in establishing tension in The Descent. He elaborated, " We really wanted to ramp up the tension slowly, unlike all the American horror films you see now. They take it up to 11 in the first few minutes and then simply can't keep it up. We wanted to show all these terrible things in the cave: dark, drowning, claustrophobia. Then, when it couldn't get any worse, make it worse. " He has also stated that he was influenced by Italian horror movies from the past, especially those by


Dario Argento
and


Lucio Fulci.


During the movie, the women encounter a group of creatures which were referred to as crawlers by the production crew, although no name was actually given to them onscreen. Once Marshall decided on a cave setting, he decided to add the crawlers, describing them as " something that could get the women, something human, but not quiet. " He further explained, " They've evolved in this environment over thousands of years. They've adapted perfectly to thrive in the cave. They've lost their eyesight, they have acute hearing and smell and function perfectly in the pitch black. They're expert climbers, so they can go up any rock face and that is their world. " He added women and children to the mix of crawlers, and explained his decision to do so by saying, " It is a colony and I thought that was far more believable than making them the classic monsters. If they had been all male, it would have made no sense, so I wanted to create a more realistic context for them. I wanted to have this very feral, very primal species living underground, but I wanted to make them human. I didn't want to make them aliens because humans are the scariest things. " The crawlers were designed by this dude right here…..


Paul Hyett
The crawler design started out as more wide eyed and creature like, but eventually shifted to a more human like appearance. They originally had pure white skin, but was changed to make their appearance grubbier. They were also phosphorescent, but since that was too bright in the cave setting, the idea was dropped in order to make them blend in the shadows better.
Why It's a Classic
Geez Louise, poppa cheese, where do I start? I guess the first thing would have to be how the characters are kept relatable, which really helps once then excrement hits the cooling device. Now don't misunderstand what I say when I mean the characters are relatable, that doesn't mean they're cookie cutter angels with nary a flaw among them. These women have their flaws, chief among them the fact that


Juno
is having an affair with


Sarah's
husband Paul, which causes her to duck out when Sarah loses her husband and daughter in a car crash. That in turn sets up the animosity


Beth ( my favorite character )
feels toward her. And what I love about these three characters' emotional backstory is just how swiftly and efficiently it's laid out. The affair is implied with a passing look between Juno and Paul…..


….which is unhappily noticed by Beth. It's just a few seconds long, but lays so much groundwork. Then there's this exchange between Beth and Sarah on their way to meet the others :
Beth : Juno is some piece of work. She's always dragging us out to…….well, just look at it!
Sarah : Well, you know, she did go with us to Scotland last year.
Beth : Yes, and left in an awful hurry.
Then there's also the fact that during this same ride Beth expresses concern over Sarah's ability to handle the spelunking and offers to stay in town with her and go to a bar and get drunk. It's moments like these that make the characters feel real and three dimensional. ( And on a related note, Beth has a funny line where she complains about the local radio station playing " either blood, mud, and beer, or sweet Jesus . " And although the rest of the characters development isn't overly belabored, there's enough to make them come alive. You get a sense of Sam's innate kindness with the exchange where Sarah thanks her for her letter, and you also get a sense of her older sister Rebecca's uber protectiveness of her. And then there's characterization of Holly as a thrill seeking daredevil, which is a really effective counterpart to the fact she's the first one to lose her shit once the cave collapses and the seriousness of the women's situation is made perfectly clear. And yet, despite the tensions bubbling underneath the surface of the group, they still cheerfully posed for this picture……


So, yeah, even though the women's personalities were painted with broad brushstrokes, it was still more than sufficient to get the audience on their side. And it made it believable when they turned on each other, which is, after all, where the real horror is. ( Okay, so maybe the eviscerations, disembowelments, and general carnage on display are technically ALSO where the real horror is. But you get my drift . ) Then there's the fact that this movie was an effective white knuckle thriller before the introduction of the crawlers, with a scene where the ladies have to traverse a chasm with limited supplies being an exemplary standout, and a scene where Beth and Sarah almost perish in a cave in being a close second.


Some critics have stated they wished the whole movie would've been played out along these lines, but I respectfully disagree. The already unbearable tension was kicked up a couple of dozen notches the moment this happened……


That was when one of the more visually spectacular shots occurred ( one which I couldn't find a pic or gif for, unfortunately ) . As Juno lights a flare, the women freeze in terror as the camera does a semicircle around them while the slithering sounds of the crawlers intensify. It makes for a wonderfully creepy and intensely cinematic moment. Another interesting thing about The Descent is how Marshall has stated how the title is meant to refer to both the women's descent into the cave, as well as into madness. It's the second meaning of the title I would like to address, since it's handled in such a visceral manner, particularly with the characters of Juno and Sarah. The others convincingly portrayed a fear crazed state, but it was those two whose portrayals touched upon the heart of darkness that Marshall referred to. By the movie's end, Juno has pretty much mentally collapsed, and the interesting thing about that is how so many factors contribute to that outcome. Of course there's the issue of the crawlers, but there's also the fact that she lied to her friends and led them to their deaths, not to mention the affair she was having with Sarah's husband and the fact that she abandoned her friend when she was needed the most. It's no wonder she's irrevocably shell shocked by the time she accidentally buries her pickaxe in Beth's throat. Her increasingly deteriorated mental state also makes it interesting when she later refuses to leave without first finding Sarah. Whereas that would normally be portrayed as unequivocally heroic action, here it reads ( at least to me ) as a fractured mind desperately clinging to a last shot at redemption. And then there's Sarah, who truly reaches a bestial state by the movie's end. The first moment comes after she's defeated a number of crawlers and raises her head and lets out an anguished scream. This comes at a point in the proceedings where it's easy to believe Sarah's mind is at the breaking point, given what the character has been through up to that point, including having a crawler mistaking her head for a small boulder and stepping on it.


And that's after finding out what she did about Juno's culpability in Beth's death, as well as her affair with her husband. That's why I find it so ironic that so many critics were hung up on the fact that Sarah got her revenge on Juno instead of concentrating on simply getting out alive. And to that I say…... SHE WAS FREAKIN' INSANE BY THAT POINT, PEOPLE!! Finding out a supposed close friend was fucking your spouse would be enough to send most people over the edge, even without the additional psychosis and insanity added to the mix. But with those elements added, Sarah's revenge killing of Juno makes perfect sense. What makes that outcome seem a little more inevitable is the snarly flicker of the lips Sarah gives Juno before revealing her incriminating necklace. But what I like the most about how Sarah's descent into madness is portrayed is how the seeds for such an outcome are subtly planted early on. There's a moment shortly after the women arrive in the cave where she gets separated from the rest of the group after being distracted by the sound of a child's laughter, which is pretty ironic seeing as how she's the only character who lost a child. I mean, we've already discussed Marshall's plans to realistically depict a colony by showing both genders of crawlers, but you never actually see any child crawlers. And yet Sarah hears one, which is pretty interesting. So the element concerning the women's descent into madness was one that was handled very well, imho. Another well handled element of the movie was Marshall's visual homages to his influences. The opening credits flashed across the screen in a way that was reminiscent of Alien. Then there was the couple of homages to Deliverance, one of which was the red jumpsuit Juno wore…….


……...which was a visual shout out to Burt Reynolds, and a scene where Beth's arm shoots straight up from where she's laying, which is a shout out to the final scene of Ed's nightmare of a hand rising out of the swamp. There was an aerial tracking shot of the women driving to the mountains that was an homage to The Shining, and the following shot was an homage to Apocalypse Now……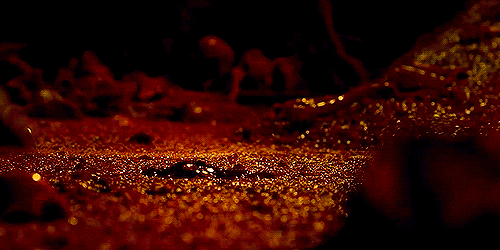 Then there was a scene where Sarah raises her head in an anguished cry……


…….that was a shout out to Carrie. There were also shout outs to The Blair Witch Project in shots seen through the lens of a camera's night vision, including the big reveal of the crawlers…..


There's also, according to what I've read, allusions to Picnic at Hanging Rock, Vertigo, 2001 : A Space Odyssey, The Third Man, and Don't Look Now. The thing is, I haven't seen any of those movies, so I can't pinpoint where exactly those homages are. And on that note, there's a piece of Ennio Morricone's score for The Thing somewhere in the mix, although I'm not familiar enough with it to know where it's at. And this doesn't seem to be a one time deal either, as Dog Soldiers ( unseen by me ) is said to contain references to noted sci-fi author H.G. Wells ( Marshall's favorite author ), as well as the movies The Evil Dead, Zulu, Aliens, The Matrix, and Star Trek 2 : The Wrath of Khan. So apparently the guy likes to reference his influences, and more power to him on that count. It does go a long way towards layering the proceedings and making things more enjoyable, without ever having the adverse effect of taking the viewer out of his movie. Another cool aspect of the movie was its symbolism, which was used somewhat sparingly but highly effectively. The first instance…….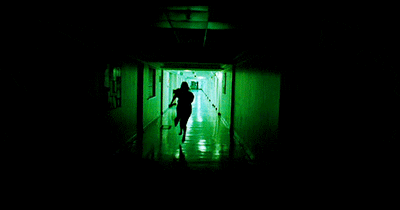 …….was after Sarah wakes up in the hospital and was an excellent metaphor for the darkness that was closing in on her. Then there were the frequent flashes of Sarah's daughter Jessica holding a birthday cake with five candles lit on it which appear throughout the movie as sporadic visions of Sarah' s.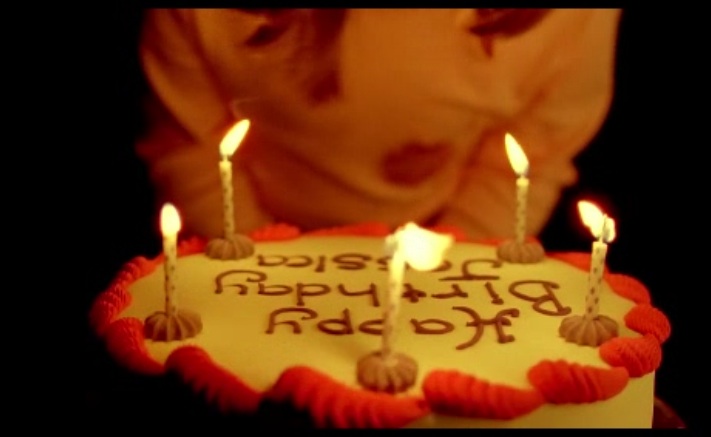 I believe the first thing to remember would be the fact that Sarah was discussing Jessica's birthday seconds before tragedy struck. So it would make sense for her mind to keep returning to imagery associated with that moment. But the thing to make note of is the fact that there is only five candles shown throughout the movie, which symbolizes Sarah's five friends. And that's why they're burning whenever you see five of them. Sarah's friends hadn't yet had their light ( that is to say their life ) snuffed out yet, which I believe is why you don't see any more of these visions once the first character dies. That's also why you see six candles adorning the cake during Sarah's final vision…….


It's not that Sarah has her life snuffed out in the original UK ending during which this final vision has taken place. But I believe the addition of the sixth candle represents the fact that Sarah's sanity definitely got snuffed out. So that was the second bit of symbolism I enjoyed, and one of the reasons this movie was so enjoyable. And talk of Sarah's final vision leads naturally to a discussion of the movie's alternate endings, the original UK version, as well as the slightly truncated US ending. In the US ending, Sarah finds a mountain of bones which leads her to a way out. She makes it back to her vehicle in a highly traumatized state and gets in, only to see a vision of a bloodied Juno. The camera zooms in on Sarah's shrieking reaction, and then the movie fades to black. In the original UK ending, things are the same up until the point where sees Juno and shrieks. But it then expands upon the scene by cutting back to Sarah in the cave, revealing her escape to merely have been a dream. We then have the aforementioned sequence where Sarah hallucinates her daughter holding the cake with the six candles, which she tellingly blows out.The camera then pulls back to reveal that the flames of the candles were in fact the flame from Sarah's torch, as well as the fact the crawlers are getting closer. In the 4 August 2006 issue of Entertainment Weekly, it was stated that the ending was trimmed because American viewers did not like its " uber-hopeless finale ". Lionsgate marketing chief Tim Palen said, " It's a visceral ride, and by the time you get to the ending you're drained. Director Neil Marshall had a number of endings in mind when he shot the film, so he was open to making a switch. " Marshall compared the change to the ending of The Texas Chainsaw Massacre, saying, " Just because she gets away, does that make it a happy ending ? " And that was exactly the spirit that I initially approached the ending. You see, that was the first ending I had seen, with the original ending being an extra feature. And I was initially okay with it for the very reason Marshall stated, which made it pretty much line up with the tone of the rest of the movie. But then I tuned into the original ending, and that was it for the compromised one. I didn't give too much thought for my preference at the time. It just sat better with me, ya know ? But the rewatch I had in preparation for this blog made me realize that my main beef with the US ending is the fact that the birthday cake symbolism I enjoyed so much had no payoff. It was still present throughout the movie, and I suppose if one were being charitable it could be said those visions were a symptom of Sarah's increasingly fragile state of mind. But the original ending takes that thread running throughout the movie and pays it off with a satisfyingly bleak, surreal manner, which makes it the clear winner in my book. And even though it never took me out of the movie, I remember thinking upon my first viewing just how conveniently stacked and unmoving the mound of bones Sarah traversed was, which is a detail that would make perfect sense if one were dealing with dream logic. But what surprised me was when I was reading the comments for Roger Ebert's review of the movie and discovered just how many preferred the US ending,citing Sarah's break with reality as being implausible, while I consider it to be the inevitable result of such a relentless series of shock situations. But to each their own, I suppose.
Final thoughts
So what we have here is a horror effort that hit the big screen without an ounce of fat on it, with every scene propelling the narrative forward. The Descent is filled with great, layered performances, awesome symbolism, nifty shout outs to other genre classics, and an almost unbearable tension, making it an easy candidate for the Why It's a Classic column.

The mad genius behind it all !
Mood:
Chillin'