horrorfan23
posted a BLOG item
about 1 year ago
Really?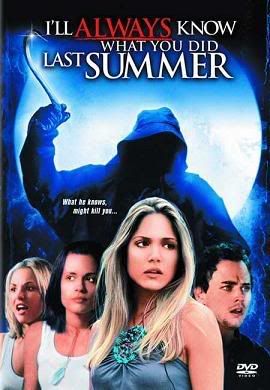 What is it about?
Another group of teens screw up by accidentally killing their friend during a prank IN THE SUMMER! That means a fisherman slasher will come one year later to enact some bloodshedding.
Ok, so the I Know What You Did Last Summer movies are fairly harmless slasher movies taking advantage of the success of Scream. The first movie is pretty entertaining and the second is goofy fun. However, this direct to DVD sequel takes it to another level of redundacy. First, the title. It just writes the jokes by itself. Next, the kids this time are completely forgettable. Torrey DeVito is the only standout because of how hot she is and how much she looks like Shannyn Sossamon.
The movie goes through the motions and red herrings that a movie like this would go through. The kicker is the ending. Do not read further if you don't wish to be spoiled.
The Fisherman is actually a zombified spirit that kills teens that do wrong things during the summertime apparently. Yeah, The Fisherman is a malevolent spirit that is like The Punisher of summer time coverups. That is both maybe the most genius and most ridiculous twist I've ever seen. I give them props for going someplace different, but it is pretty damn stupid. The movie then goes into supernatural territory with The Fisherman being unstoppable in any way, shape, or form. There it gets somewhat fun to watch.
The main problem is that it's dull. Nothing stands out aside from the ending for how ludicrous it is. Watch it at your own risk.
Mood:
Drunk